Endorsements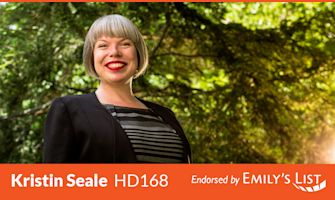 ---
"
"Kristin Seale has been a champion for progressive policies in Pennsylvania," said Geri Prado, senior director of state and local campaigns at EMILY's List. "EMILY's List is proud to stand with Kristin as she continues to advocate for quality education and economic opportunity in the Pennsylvania state House."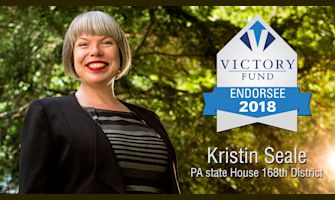 ---
"
"Victory Fund is pleased to endorse Kristin Seale for PA State Representative, 168th House District," said Victory Fund President & CEO Annise Parker. "Kristin's commitment to smart public policy that addresses the real concerns of constituents makes her the best candidate in the 168th to represent her community in Harrisburg. When she wins in November, Kristin will become a vital LGBTQ voice."
Founder, Take Action Give 5
Ellen Morfei
---
"
I'm supporting Kristin Seale for the Pennsylvania 168th House seat. Kristin is not only the most qualified candidate for this seat, but she's one of the most qualified candidates I've had the pleasure to vote for. Her policy positions are well-considered, strategic, and well-articulated. Her experience in advancing progressive legislation in two different states both with predominantly Republican legislatures is unprecedented. I have no doubt that Kristin would be an incredibly effective legislator from the get go and I can't wait to vote for her. I hope you will join me.